5 steps to writing your own travel journal in Italian
How to write in Italian without speaking Italian - yet!
What do you do when you want to give a voice to your feelings, when you want to remember a beautiful encounter, when you want to understand more? You write. Somehow, fixing an experience on paper (lived or imagined) is preserving it. It's making it stronger and bolder. And it's liberating.
Journaling is a soul-lifting practing. I do it to awaken my creativity and to keep the flow of thoughts going. I also have a couple of travel journals that I like to go through once in a while and let my memory wander.
But journaling in Italian? Even if you have just started learning the language? It's possible. And it's a very enjoyable thing to do. 
In my free guide "5 steps to writing your own travel journal in Italian" you'll learn how easy it is to use the Italian language to embellish your journal and to study the language without actually studying it. Just writing down words and connecting them to an experience is enough to create a true connection with Italian. 
Ready to travel?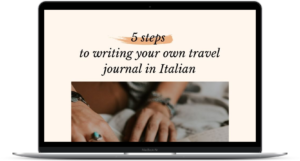 What happens when I sign up?
As soon as you hit the sign up button you will need to confirm your subscription (you know, privacy and GDPR) and you'll receive my first email with the free guide and the access to my Library of resources. You will be receiving two more emails with useful journal ideas and then you will be joining my regular newsletter. I usually send 2 emails a month, sometimes more if there is a tight deadline, but that's it!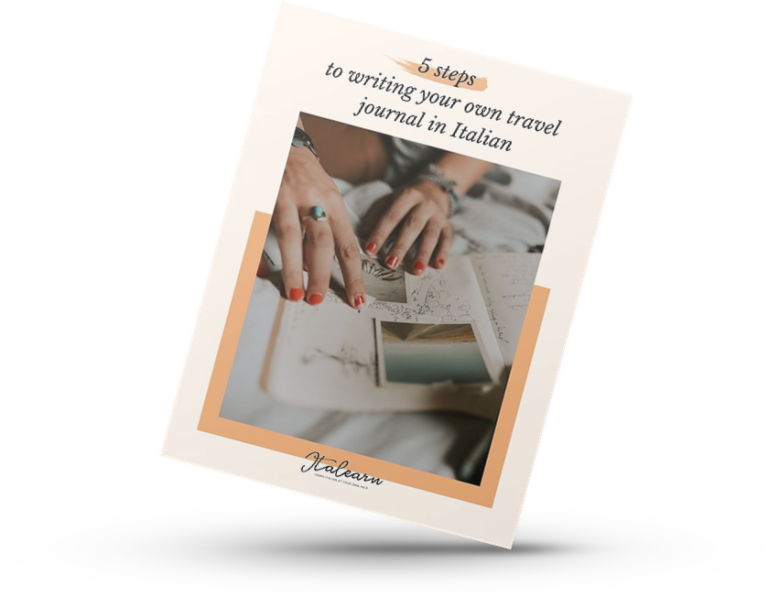 How can you get the journaling guide
The free guide "5 steps to writing your own travel journal in Italian" is now only available in the private Library of resources. Access to the Library is free forever for all subscribers.
If you would like to join our community of passionate Italian learners, you only need to sign up using this form — on your right if you're reading from a computer, below if you are reading from your phone!