There is always something new you can learn
Try Italian, at your own pace
Italian is one of the most studied foreign languages in the world. It is the language of art and fashion, cinema masterpieces and food. It's great that you want to learn it too!
Even if I don't know you yet, I'm sure there are many reasons why you want to learn Italian: 
FAMILY
Reconnect with family members living in another country
TRAVEL
Planning a trip to Italy or a long stay abroad
WORK
Deliver speeches, make presentations, deal with your bosses in Italian
Or you just want to do it for the pleasure of learning, which is a great idea.
Whatever your reasons,  congratulations for starting this exciting journey!
The teaching approach  I use is not built around grammar rules, but rather focuses on the ability to communicate effectively.
Italian grammar is intimidating at first, but we are going to use it as a prop to support our learning activities.
Understanding Italian grammar can be very challenging, but once you get the hang of it, you'll see it as a framework that holds together every new information you acquire. 
The extra focus on grammar will strengthen your confidence and the overall perception of how you speak.
I almost hear most of you saying:
I'd love to speak Italian but I'm not good at languages
I'll never be able to speak with natives
I don't have enough time to study
Well, I'm here to let you know that you got it all under control. I have designed my courses with you in mind: mum-boss, busy business woman, introvert beautiful girl and all of you waiting for just that little "go-for-it!". You'll gain enough confidence to speak even if you're not perfect. 
By working at your own pace you can fit everything in your schedule. So even if you have a tight agenda and you only have one hour a week to learn Italian, it's ok, slow but steady, you'll learn without even noticing it. 
It will take less than you imagine to be able to manage all the fundamentals on your own and then you'll see that the pleasure of learning will override stress and anxiety.
You got it all covered, go to the world and enjoy your ride!
What are you going to learn
As a beginner, there are a few basic steps that you need to take in order to get started. Once you understand how Italian works, it will be easier to put the pieces together and learn how to speak the real language.
I like to use authentic materials for my eBooks and courses because I want you to have an experience that is as close as possible to a real conversation with native Italian speakers. You don't need to be in Italy, just being actively involved in the world of the new language can make a tremendous difference.
My beginner lessons focus on developing the ability to communicate effectively, understand and being understood.
You are also going to listen a lot. Listening is key, that's why I always include audio clips so you can become familiar with Italian pronunciation, rhythm, intonation.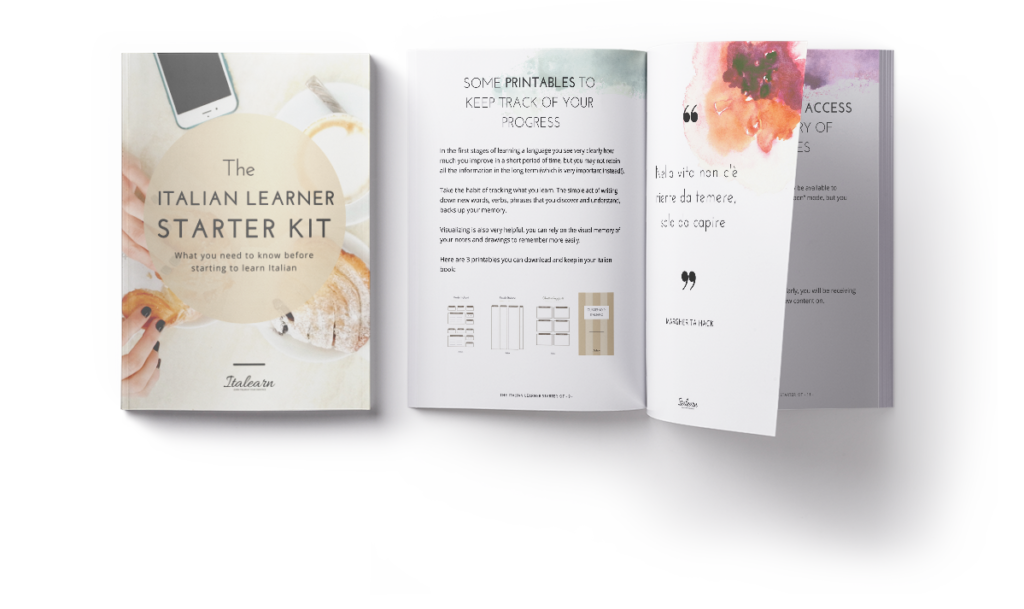 That's where the magic happens, in your inbox.
I am an introvert (even though you may have seen videos with me) so I like to do things on my own often, taking my time, closing the world outside. Of course I also believe in sharing and communicating with others, and I strongly believe in being connected.
Joining my newsletter means having your time to learn and being part of a group of like-minded people who are absolutely obsessed with all things Italian. Just like you!
When you sign up you receive the guide pictured above and a few emails from me that will help you find your motivation and finally get started – or started again! with Italian.
This is the place where you can receive all info about my courses, ebooks, and workshops.
And this is also the place where you can find my best free resources to learn Italian at your pace – there is a growing Library waiting for you!