get Better at Italian, one creative exercise at a time.
Why we obsess over the wrong thing
change your mindset, change your Italian
Did I ever tell you about my relationship with the German language? I have studied it in high school, for 5 years. I must say that I have struggled with it for at least 4 of those years! Why? Because I didn't want to make mistakes, but I was making them, so I din't want to speak. Then, a new teacher came and with her German literature also made her appearance. 
It was my wake up call. I started reading more than was required by school, I also signed up for the German poetry lab. And this opened the doors for my interest in dissecting language to understand how it works. To cut a long story short: I continued to make mistakes (oh, those cases!) but I ended up getting a very high grade at my final exam because I wasn't afraid anymore to say what I had to say.
What's the bottom line here? I was obsessed with the wrong thing. I have a feeling you are stuck in the wrong mindset too. I'm here to help you find "your thing" and finally build a solid relationship with Italian.
Learning Italian shouldn't be painful
Sometimes the pressure becomes unbearable and it's not OK. Because learning Italian is not supposed to be painful. It's a love story with ups and downs, but it can be the story of a lifetime.
You can learn how to speak your mind without sounding like a textbook. You can feel relaxed while studying. Actually, you don't have to study all the time to improve your Italian. Just be creative. 
Do you think it's easier said than done? Then welcome to the Italearn's creative Labs and Workshops!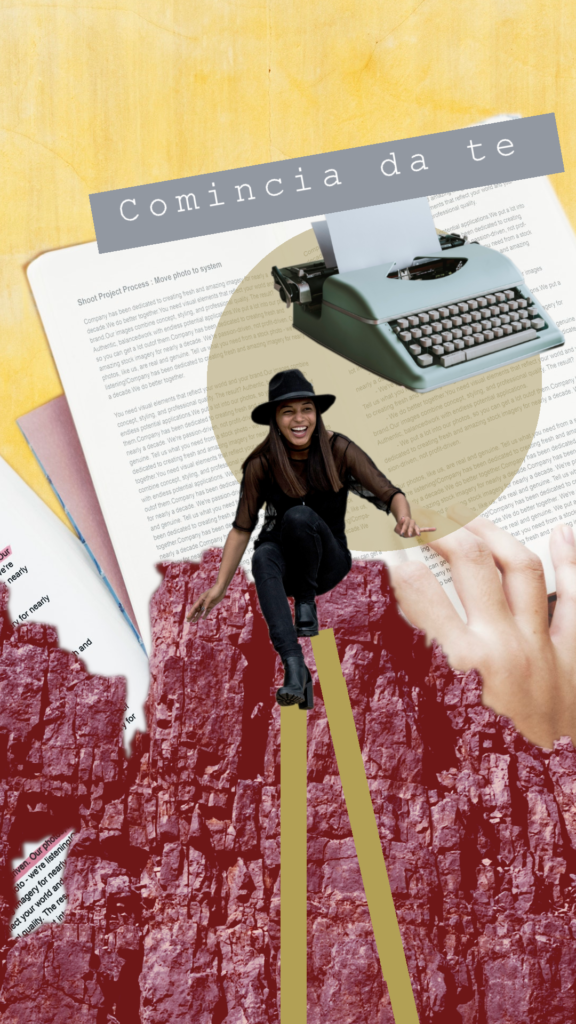 Don't be anxious: be creative
Even if we're not supposed to, we do have expectations from our love stories. When it comes to Italian, as learners, we start out very optimistic and we soon reach a stage where we would like to speak, have meaningful conversations, read the books we love, but we can't find the words. Sounds familiar?
And does this sound familiar: you know you have something to say, but you don't know how to say it. Or, you do know how to say it, but you are afraid to say it. Or, you think you are not ready.
My two cents: stop stressing over it (whatever "it" means for you), stop overthinking, and stop studying. 
I am going to teach you how to look for the words you need and turn them into your own story. How are we going to do it? With creative exercises that will train you to connect with the Italian language. Deeply. Adding a little art to your learning experience will take you a long way.
With creativity it's easier to feel the language
You know my tagline is "learn Italian at your own pace" and that's why you can take all the time you need to explore the language creatively. In the Lab you will find self-paced courses — prerecorded videos and audios, written instructions, and the story you will be "dissecting and recomposing". The Workshops instead are live creative classes that you can attend with other students only at specific dates (the PDFs with all the info will be sent to you before the class).
Start using other people's words
they will help you to express yourself
In the Lab and Workshops you are going to learn how to use someone else's words to find yours. We'll start from a story and through a series of creative exercises you will find the words that matter to you and you will learn to use them to express yourself. You'll be able to tell your story in a simple way without sounding like a shopping list. And extra bonus: you'll be able to frame and hang your art work!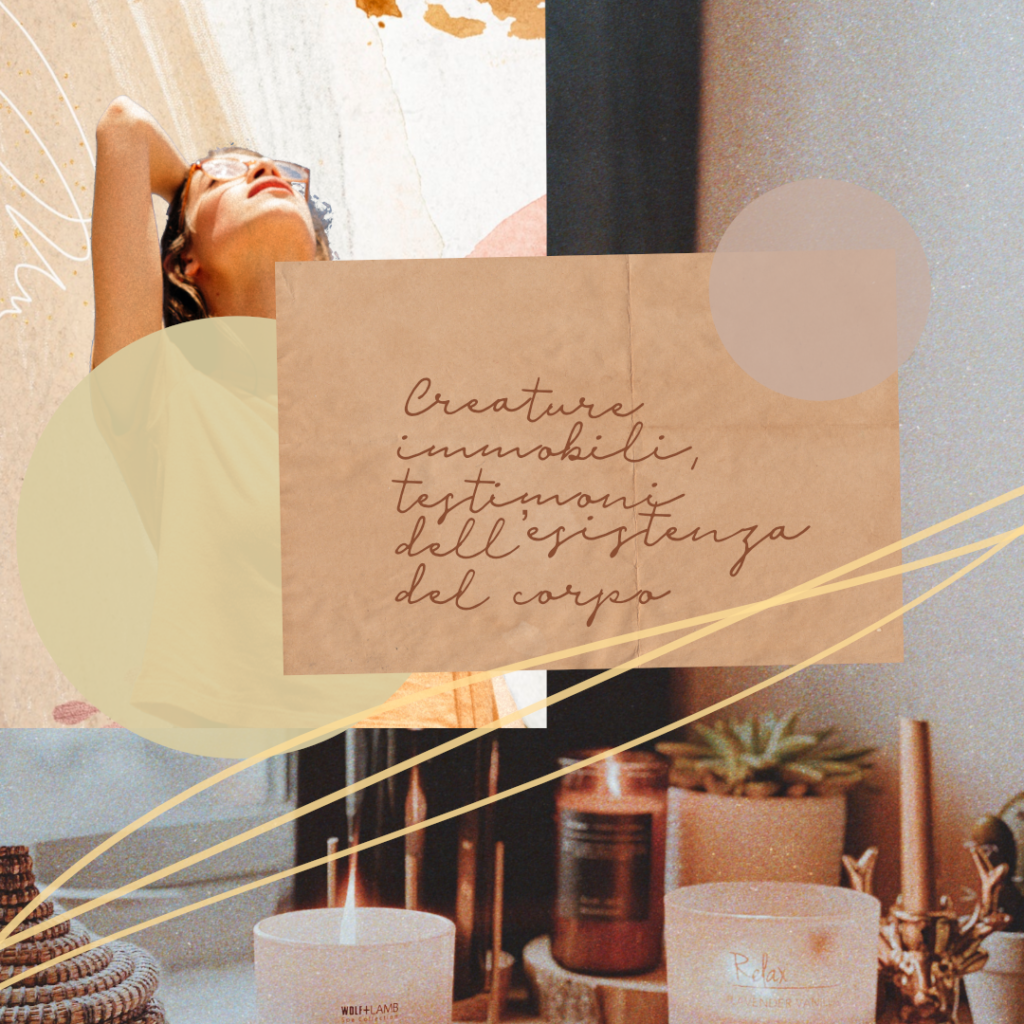 You already have the tools at home
The tools and materials we'll use are paper, markers, paint, scissors, tape, glue, cardboard, magazine and newspaper clippings, fabric, and any other material you can stick to your cardboard!
The techniques we'll use are collage, cut-out, found poetry, blackout poetry, journaling, storytelling, and anything else my creative mind can think of!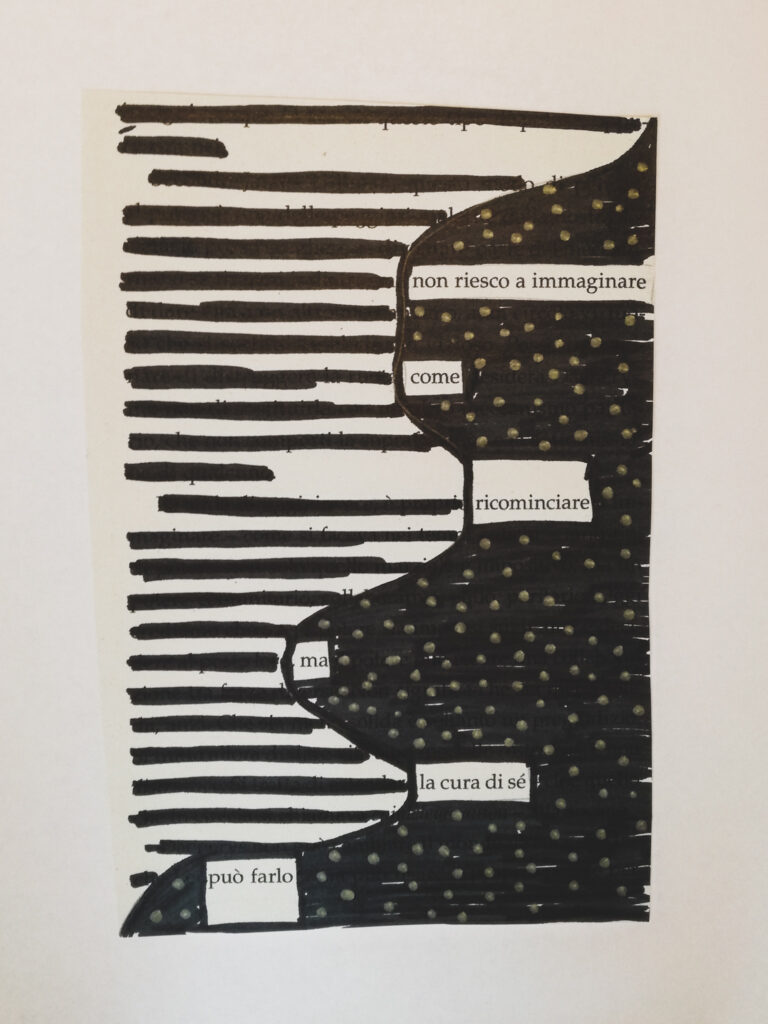 Drop anxiety. Boost confidence.
Very often, learning a language as an adult is met with some resistance. Even if that's what we want the most. We don't want to be judged if we are slow or if our pronunciation is far from native-like. We are afraid of speaking because of the mistakes we might make. And often we'd rather not share our fears. But when you journal, when you doodle, when you draw, your anxiety level goes down. And your self-confidence goes up.
The creative activities that I use in these classes will help you do exactly this: while you are focused on playing with the language, in a relaxed and supportive environment, you are indirectly (but actively) learning the language. You will be reading, researching, mixing, moving, building, writing words that in many cases will be new for you. And by making a collage with other people's words, you will be speaking your heart. And this is going to stay with you.
you can be creative + learn Italian in a judgement-free and relaxed environment
Italian is a highly emotional language which is perfect for us, naturally emotional human beings. Grammar and textbooks are not everything, sometimetimes an imperfect text can communicate better than a mistake-free one. The best gift you can give to yourself as an Italian learner is to "just let go" and create your own worlds in Italian. You can think about grammar later. The testimonials you see below are from students of all levels, including beginner. They are the demonstration that even with limited resources you can dream big.
La lezione è stata molto divertente! Incontrare donne da tutto il mondo e condividere durante questo periodo di separazione fisica e difficoltà è stato particolarmente piacevole. Ecco la mia creazione: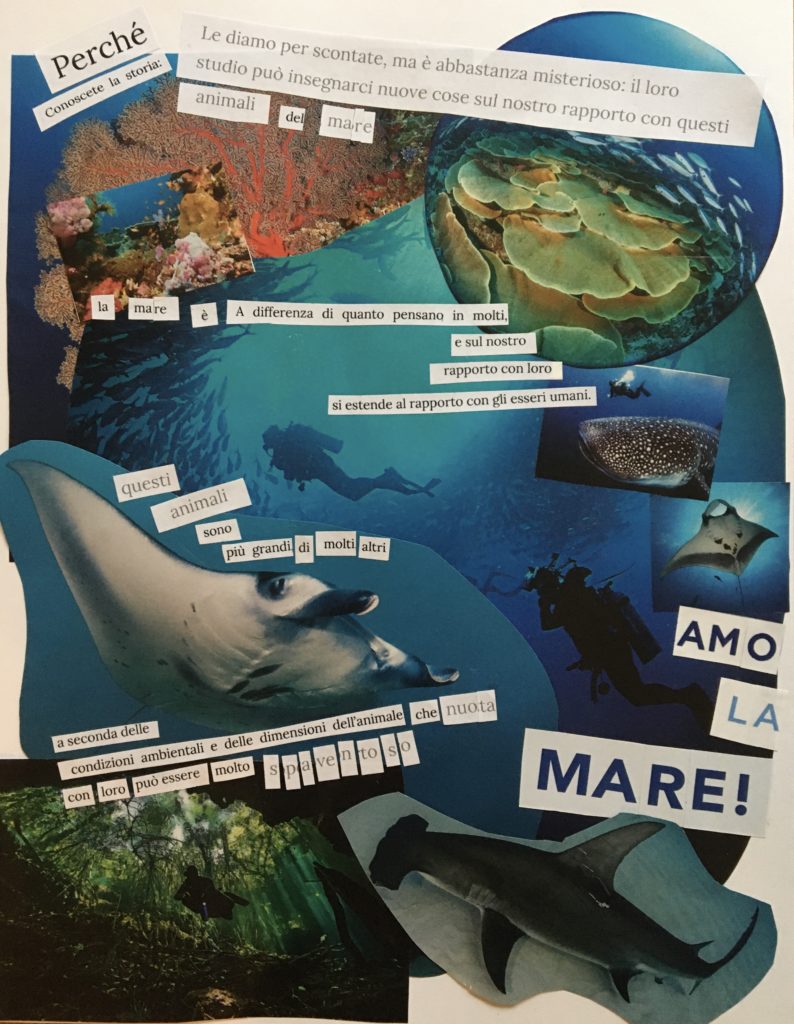 I thought I was somewhat creative but it had never occurred to me to apply that creativity to language learning. Participating to Creative Italian Workshops has given me more confidence to experiment with the language and create my own sentences. Also, reading Italian was something I found particularly difficult and I avoided, but after seeing what I could do with the texts Silvia picks I now feel more confortable reading longer texts or texts that may be above my level. I highly recommend it. If you haven't tried it, this creative approach to learning Italian might not seem very effective. In fact, it is the opposite. On the one hand, it's a relaxing and fun activity, which is in itself conducive to learning. There's also a lot of freedom to create whatever text you feel comfortable with and to explore those formal aspects of the Italian language you need at any particular time.
Prima di partecipare a un workshop pensavo di essere una persona creativa, ma volevo diventare ancora più creativo! A dire la verità, lavorare con esercizi creativi ha cambiato il mio rapporto con l'arte in generale. Posso usare il metodo che abbiamo usato nel workshop come una metafora per creare altre cose (per scrivere un film, per esempio). Consiglio dipartecipare a questi workshop di italiano creativo perché se ti piace la lingua Italiana e ti piace fare le cose creative, Silvia è una buona persona con cui fare queste cose. È interessante e curiosa ed è divertente lavorare con lei.