Fall in love with Italian
with a story and 5 creative prompts
Italian is one of those languages you have to struggle with sometimes. But you can only be in love with it.  There are misunderstandings and fights sometimes, but you always make peace and things are better than before. It wouldn't be a love story otherwhise, no? 
Italian is a complex and rich language, I like to think of it as an intricate mix of all arts. 
There are so many ways of learning it, my favourite is "a occhio". You know when you really like a cake and you ask your grandmother for the recipe and she says: oh, but there is no recipe, I eyeball everything. You think you will never be able to replicate that exceptional flavor without a recipe, but then your grandma also says: you'll get to it by making it. 
And that's exactly what you learn to do here. How to select and mix the ingredients of your story. 
Boost your Italian in a month
I'm going to show you how beautiful it is to be imperfect: I have written a micro-story and 5 creative exercises to fall in love with Italian (I know you already are, but how can you say no to some extra love?). I have also paced it for you so you don't feel overwhelmed — all you have to do is to drop your name and email below and let the magic begin.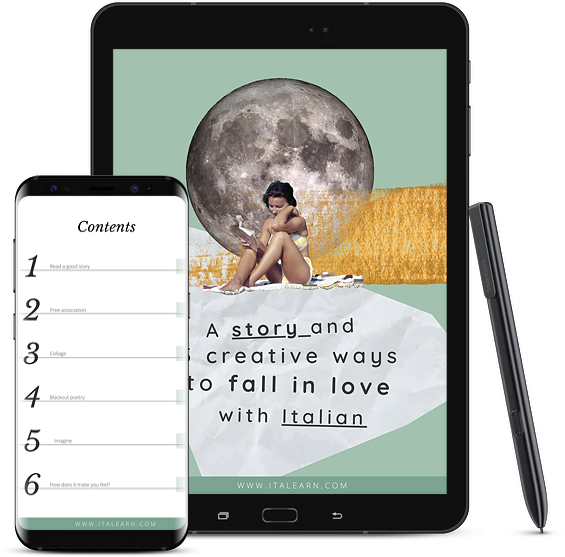 Nurture the love story with this free mini-course
No matter the current level of your Italian, you can enjoy writing and reading on your own. We'll take it slowly, like Italians sipping a glass of wine watching the sunset. This is not about rules, grammar, perfection.  This is about the pleasure of learning Italian. When you do something you love, it becomes easier. And when it's easier you stop worrying. And when you stop worrying you learn.
What are the ingredients of the cake that you don't have to measure? A little bit of your time, your creativity and your heart.
As far as I'm concerned, I'm going to give you the tools and the techniques you need (for 3 weeks after you download the story). I'll be like your granma: letting you do the work, but being with you all the time in case you need me.
This is all you have to do
Downloading the story and making time to complete the tasks is only the beginning. When you fill the form on the right (below the text if you're reading from your phone) you also become a member of the Italearn's list. It's a small community of Italian lovers who are giving themselves the gift of slowly learning Italian and make their dream come true. 
After you download the story you'll also have access to my free Library of contents and to my live events.
Although I'm an introvert who loves to stay home to read and write (#fridaynightitalian for example) I also love to share and be in a community of like-minded people. This is what you can get from my newsletters:
support and that pep talk you need once in a while
creative ways to learn Italian stress-free
challenges (just small tasks that are easy and fun)
infographics you can save to you Italian folder
short videos about grammar (not the boring stuff!)
trackers, screensavers, calendars, illustrations, etc
anything else my mind is able to conceive to help you learn Italian!